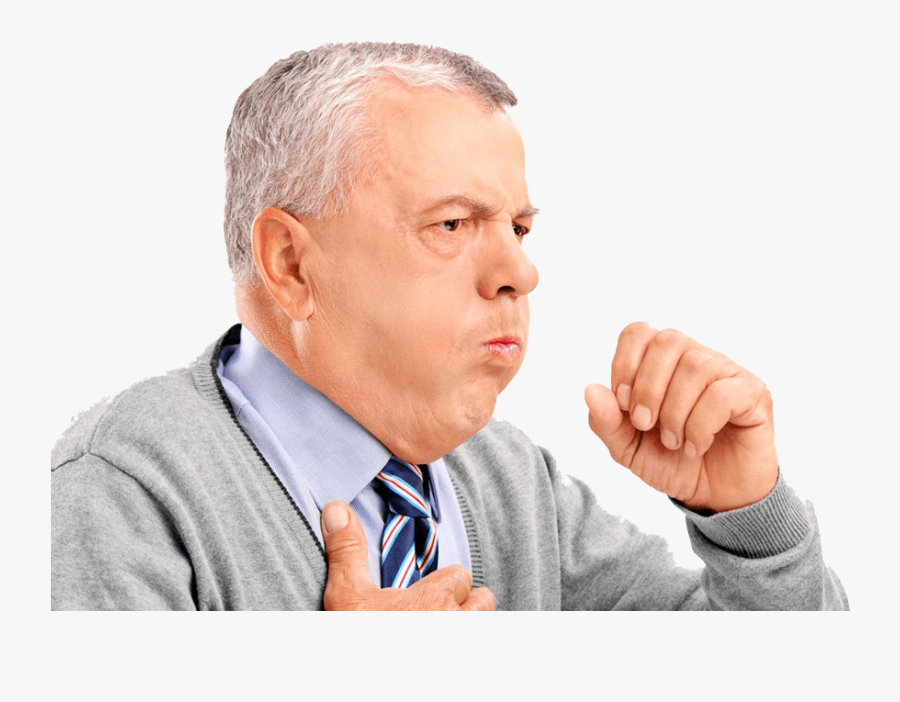 Are you suffering from a cough or wheezing?

Do you experience frequent episodes of shortness of breath?
If yes, then it will be better to consult a physician with a specialization in Medicine. They will address all the above problems efficiently.
Dr. Mukesh Mahajan, the Founder of Phoenix Multispeciality Clinic, is one of the best general physician in Keshav Nagar, Pune. He has 11+ years of experience. He has completed specializations in General Medicine, Critical Care Medicine, and Minor surgical methods.
Dr. Mukesh Mahajan will help you control and manage your respiratory issues with effective treatment. He also provides the best bronchial asthma treatment in Keshav Nagar, Pune.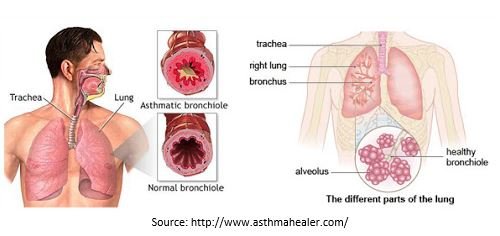 What is Bronchial Asthma?
Bronchial asthma is a chronic respiratory condition that causes swelling and narrowing of the lungs' airway path. Due to swelling, the air path produces excess mucus making it hard to breathe. The excessive mucus leads to coughing, shortness of breath, and wheezing that interferes with routine activities.
Bronchial Asthma is curable, and inhalers help overcome asthma attacks. It can affect any age or gender and depends upon environmental and genetic factors at large. When ignored, disease proves fatal, challenging lives in many cases.
When should you contact the doctor?
Recurrent episodes of coughing, wheezing, and shortness of breath are the initial indicators of Asthma onset. The signs and symptoms require medical care and consultation with a specialist immediately.
Signs and Symptoms of Bronchial Asthma
The most common symptoms of asthma include:
Breathlessness or shortness of breath while walking, talking, laughing, or running.
Chest discomfort or tightness.
Sleep apnea or difficulty while sleeping is caused due to breathlessness.
Coughing or wheezing (whistling sound from the chest).
Cold and flu.
How is Bronchial Asthma diagnosed?
The doctor will initially do a physical examination to rule out symptoms associated with other diseases. The diagnosis includes: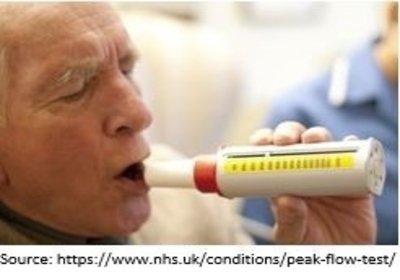 · Peak flow test
A peak flow test is a quick measurement of air passing out of the lungs. It is also known as the Peak Expiratory Flow Rate (PEFR) or the Peak Expiratory Flow (PEF).
· Spirometry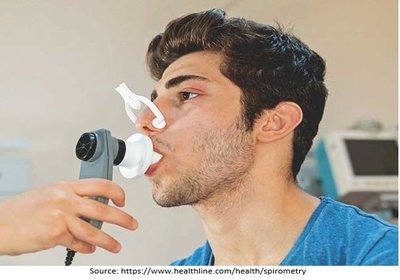 Spirometry is a pulmonary function test. It measures lung function, especially the amount and speed of inhaled and exhaled air. Spirometry helps assess breathing patterns that identify asthma, pulmonary fibrosis, cystic fibrosis, etc.
· Methacholine test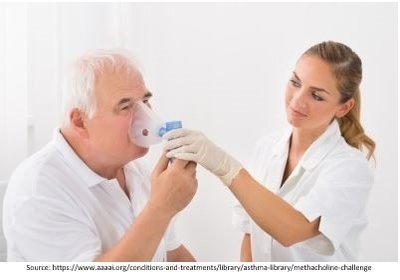 A methacholine test helps in the diagnosis of asthma. Methacholine is an inhaled drug that leads to mild narrowing of the lungs' airways, like asthma.
· Nitric Oxide test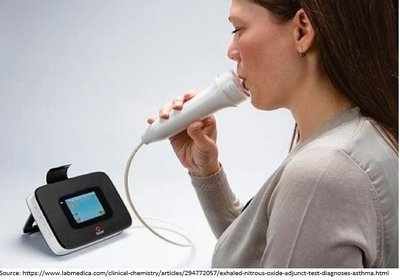 An exhaled nitric oxide test can help diagnose and control asthma. It measures the amount of nitric oxide exhaled from the breath. The higher levels of nitric oxide are associated with inflammation of lung airways.
· Imaging tests
Chest radiography is the first imaging evaluation in most patients with symptoms of asthma. The chest radiography helps diagnose complications or causes of wheezing and its exacerbations.
Bronchial Asthma Treatment
Prevention and management are the keys to cure the disease. Steps involved in the treatment are:
1 . Anti-inflammatory drugs
Inflammation causes swelling of the inner lining of the airways and produces excess mucus. It makes the airways more susceptible to asthma triggers. Anti-inflammatory medications help to limit this process and prevent asthma attacks. Direct anti-inflammatory drugs include corticosteroids.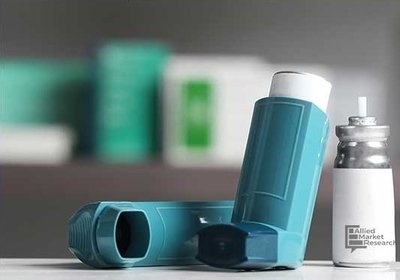 2. Inhaled bronchodilators
Bronchodilators are a type of medication that makes breathing easier by relaxing the lungs' muscles and widening the airways (bronchi).
3. Ipratropium (Atrovent)
When inhaled, it acts fast to relax the bronchi airways, thus restoring easy breathing. Ipratropium helps to treat chronic bronchitis and severe asthma attacks.
Causes of Bronchial Asthma
Though the root cause of asthma is unclear, it mainly occurs due to environmental or hereditary factors. The factors or conditions that may trigger an asthma attack are:
Exposure to pollen, dust, animal fur, sand, or bacteria triggers allergic reactions.
Viral infections like cold, flu, or pneumonia.
Air pollution, smoke, fumes from vehicles, etc.
Stress and anxiety.
Physical movement or exercise-induced asthma.
Medications like aspirin, Ibuprofen, beta-blockers, etc.
Acid reflux or gastroesophageal reflux disease (GERD).
Scents and perfumes.
Weather, particularly extreme temperature changes.
Food additives such as MSG.
Risks of Bronchial Asthma
The main risk factors are:
Family history of bronchial asthma.
Susceptive to an allergic reaction like atopic dermatitis or hay fever.
Habits that make you overweight.
Smoking.
Prevention of Bronchial Asthma
To prevent the occurrence of asthma, you should:
Avoid vigorous exercises.
Have an adequate diet.
Use an asthma inhaler prescribed by your doctor.
If you're suffering from respiratory problems, book an appointment with Dr Mukesh Mahajan at Phoenix Multispeciality Clinic, the best multispeciality clinic in Keshav Nagar, Pune.