An average human has a body temperature of about 98.6°F (37°C). Anything above this degree is considered a fever. You can think of fever as a sign that your body is fighting off bacterial or viral infections. An underlying viral sickness causes a viral fever.
Humans beings are often affected by a variety of viral infections like the common cold and flu. If your fever is low, it could be a symptom of many viral infections, while high fever indicates dengue or malaria, and so on.
But how do you find out whether you have a viral fever or not?
Symptoms of a Viral Fever
Viral fevers can range from 99°F to 103°F (39°C), depending on the virus. The symptoms of viral fever are -
Sweating
Chills
Headache
Dehydration
Muscle aches and pains
Feeling of weakness
Loss of appetite
Generally, these symptoms typically only last for a few days. However, if you feel these symptoms for more than a few days, you should consider consulting a doctor.
What Causes Viral Fever?
Viral fever occurs when you get infected with a virus, an infectious agent that multiplies inside your body's cells. A fever is your body's response to fight off a virus. Most viruses are sensitive to temperature changes, so a sudden rise in your body's temperature makes you under a lesser threat to viruses.
There are many ways in which you could get infected by a virus, including:
Inhaling: An already infected person can infect you by sneezing or coughing near you. You will then breathe in these droplets containing the virus—viral infections caused due inhaling are flu or a common cold.
Ingestion: Viruses can contaminate food and drinks. If you consume contaminated foods and beverages, you can get an infection. Viral infections from ingestion are norovirus and enteroviruses.
Bites: Animals or insects bites can cause infections like dengue fever and rabies. So, please be careful when outdoors.
Bodily fluids: Body fluid exchange with someone infected with a virus can cause you infections. This type of viral infection includes HIV and hepatitis B.
How is a Viral Fever Diagnosed?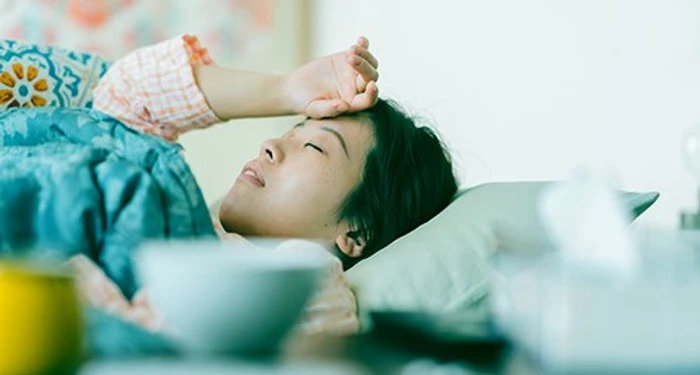 You will visit a general practitioner who will begin the diagnosis by ruling out a bacterial infection possibility. They will consider your symptoms and medical history; after that, they would take samples to test your condition.
For example, if you have a sore throat, they might conduct a throat swab test to determine if it is a bacteria that is causing strep throat. If your results are negative, you most likely have a viral infection. They might also check your white blood cell count to find out if you have a viral infection.
Treatment for Viral Fevers
Viral fevers usually don't have any treatments, like antibiotics for bacterial infections. Treatments that typically provide relief to your symptoms include -
Take acetaminophen or ibuprofen or any other over the counter fever-reducing medicines.
Stay hydrated to replenish fluids lost while sweating
Rest a lot
Sit in a lukewarm bath to reduce body temperature
Consider visiting a doctor if you get a high fever or do not find relief after trying any of the abovementioned options.
When to visit a doctor?
Usually, viral fever is not a cause for worry. However, if your fever reaches 103°F (39°C) or higher, you should visit a general practitioner right away.
You require immediate medical attention if you have any of the following symptoms along with high fever -
Chest pain
Severe headache
Breathing difficulties
Continuous vomiting
Pain in the abdomen
Quickly worsening rashes
Stiff neck associated with pain while bending it forward
Seizures or convulsions
Confusion
Monitor your fever at regular intervals and take ample rest. However, if you do not recover in a few days, you should seek medical help immediately. During this time, do stay hydrated and take ample rest.